---
👀 Introduction
Do you often find yourself struggling to schedule meetings with clients, prospects, or team members?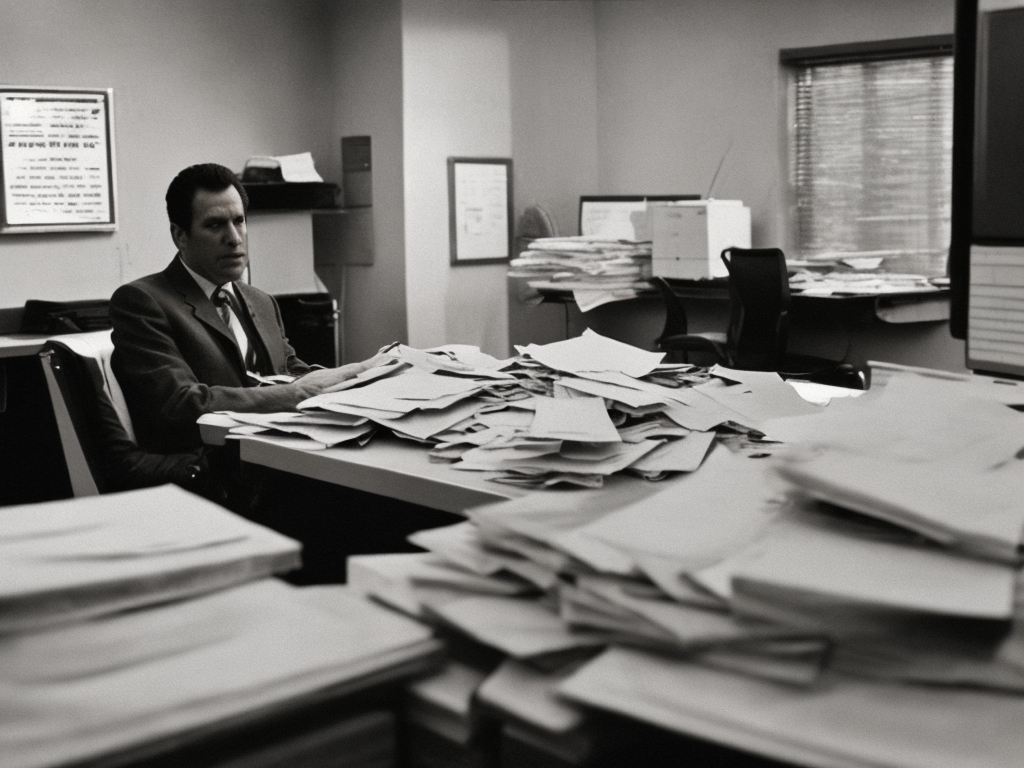 Coordinating schedules, finding a suitable time and place, and sending reminders can be a hassle, especially if you have multiple meetings to schedule in a day.
Fortunately, with HubSpot Meeting Scheduler (referred as HubSpot Meeting from here on), you can automate meeting scheduling process and save valuable time.
HubSpot Meeting eliminates the hassle of coordinating schedules through emails and phone calls by allowing invitees to view a user's real-time availability and book a time that works for them.
In this article, we'll dive into the benefits of using HubSpot Meeting, how it integrates with HubSpot CRM, and how to set it up.
We'll also discuss alternative meeting scheduling tools, such as Calendly, and compare them to HubSpot Meeting.
👑 Benefits of HubSpot Meeting
Using HubSpot Meeting can help streamline your scheduling process, improve productivity, and enhance your customer or team member experience. Below are the key benefits.
⏰ Time-Saving
HubSpot Meeting is a time-saving tool that automates the scheduling process and eliminates the need for back-and-forth emails.
You can quickly schedule a meeting by sending a link to your availability, letting attendees choose a time slot that works best for them.
In addition, HubSpot enables you to reschedule meetings easily without the need for more email exchanges.
👤 Personalization
With HubSpot Meeting, you can personalize your meeting invitations and add custom fields to collect information from attendees.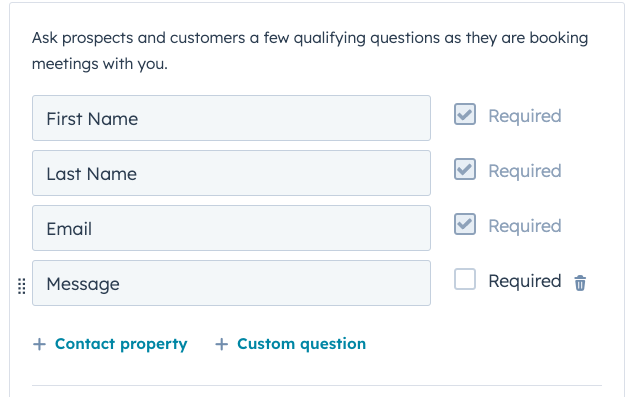 This helps you gather important information prior to the meeting and makes for a more productive meeting.
You can also create multiple meeting types based on the nature of the meeting, such as sales calls, demos, or consultations.
🏗️ HubSpot CRM Integration
One of the biggest advantages of using HubSpot Meeting is its seamless integration with the HubSpot CRM.
When someone schedules a meeting with you using HubSpot, all meeting details are automatically added to your HubSpot CRM.

This eliminates the need for manual data entry and helps you keep track of all your meetings and follow-ups in one place.
⌚ Multiple Time Zones
HubSpot Meeting Scheduler automatically detects the time zone of your invitees and adjusts the available time slots accordingly.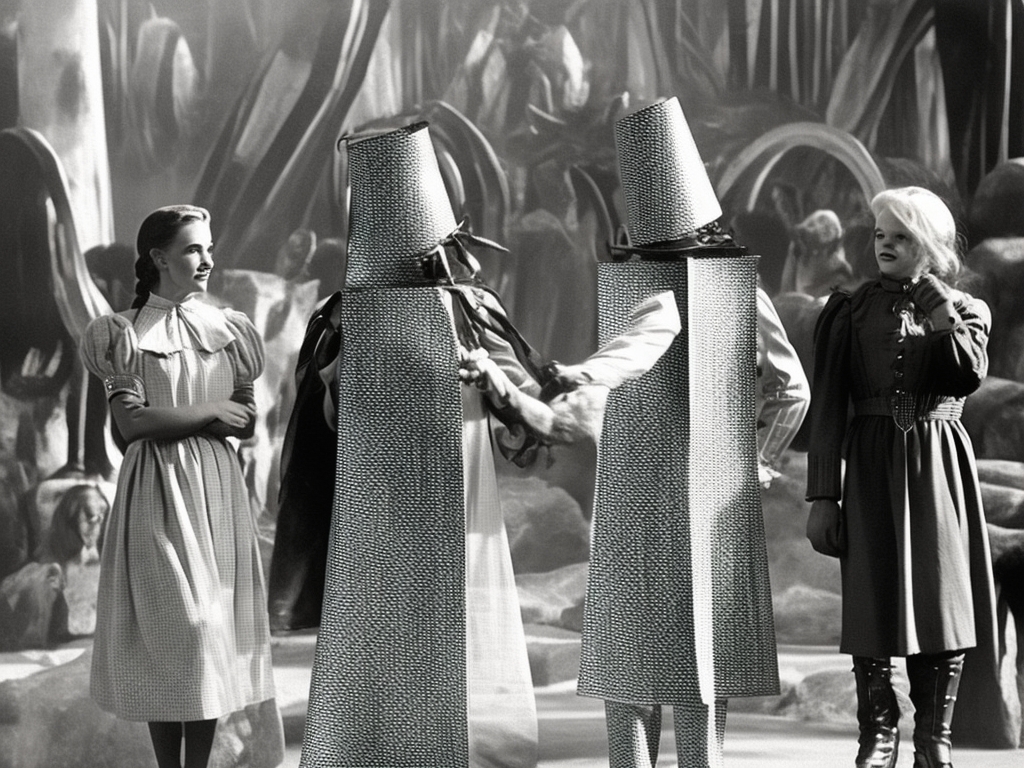 This helps avoid any scheduling conflicts due to different time zones. With HubSpot, you can confidently schedule meetings with attendees in different parts of the world.
📅 Customizable Availability
HubSpot Meeting allows you to set your own availability based on your calendars (eg work, personal, or team calendars).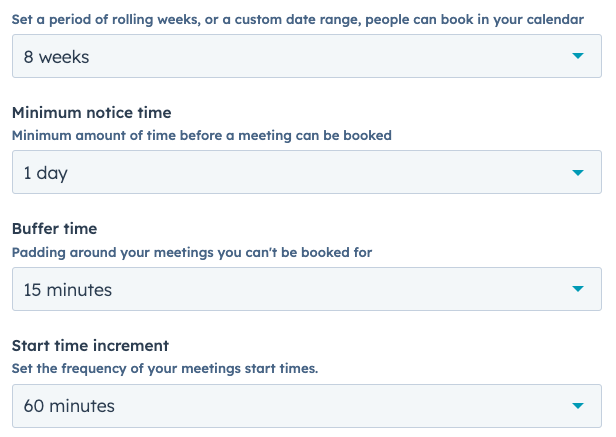 You can customize your availability to show only certain days or times, block off specific slots, and create buffers between meetings.
This makes it easy for attendees to find a time that works for both parties.
🌐 Embedding on External Sites
One of the benefits of using HubSpot Meeting is that you can easily embed it on your website or in your email signature.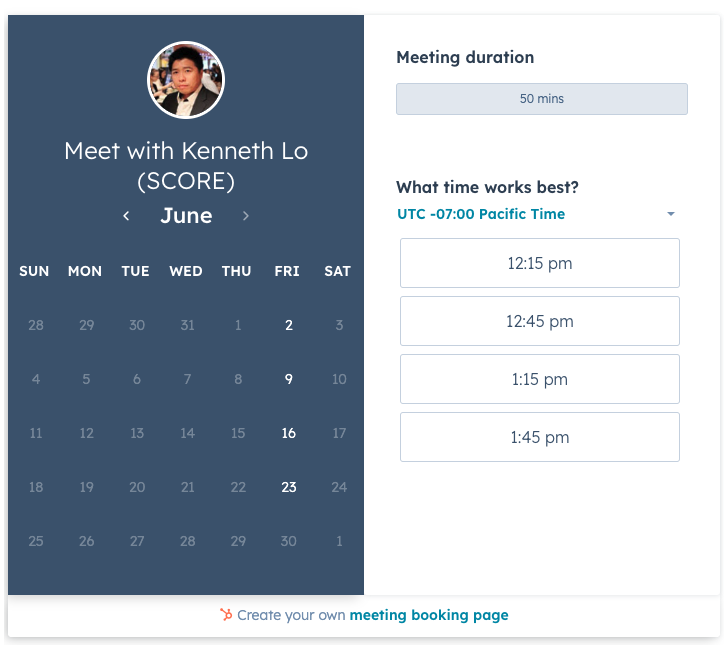 Once the scheduler is embedded on your website, visitors will be able to access it directly from your site and schedule meetings with you without ever leaving the page.
🛍️ Calendly as an Alternative
While HubSpot is a powerful scheduling tool, it may not be the best fit for everyone.
If you're looking for an alternative, Calendly is another popular scheduling tool that offers similar benefits.
Calendly is a standalone scheduling tool. This means that while Calendly may offer more customization options and flexibility,
Another key difference is pricing. Calendly offers a range of pricing options based on the features you need, while HubSpot Meeting is included as part of the HubSpot CRM platform and is available to all users.
🥡 Takeaways
HubSpot Meeting is a powerful tool that can help you streamline your meeting scheduling process and improve your overall productivity.
By using HubSpot, you can eliminate the back-and-forth of email scheduling and provide a seamless scheduling experience for both you and your clients.
In addition, HubSpot Meeting's integration with HubSpot CRM provides an added layer of convenience and functionality, allowing you to easily manage your contacts and meetings in one place.
So why not give it a try and see how it can transform your meeting scheduling process?
---
🧰 Resources